Item No:OB244185050
Size:244x185x50mm|9.6x7.3x2"
Tinplate:0.23mm food grade
Printing:white+CMYK+PMS
Embossing:Available in lid+body
Spot glossy:Available Dean's shortbread biscuit tin box is not a common tin as it usually requires very high demand on the printing quality with the use of multiple PMS colors to entertain customer's
Item No: multiple

Size:

varous

Tinplate:

0.23mm

Printing:

customized

Embossing:

customized

Spot glossy:

cutomized

Tinpak offers a wide selection of metal tea tins in different shapes.

Item No:UK083064061

Size:

83X64X61 | 3.3"X2.5"X2.4"

Tinplate:

0.23MM

Printing:

CMYK offset printing

Embossing:

Not available

Spot glossy:

Available

This cute candy tin box is in egg shaped. It's very suitable for packing gift candies.

Item No: UK154113044
Size: 154x113x44mm|6.06"x4.45x1.73"
Tinplate: 0.23MM tinplate
Printing: CMYK custom printing
Embossing: Available in lid
Spot glossy: Available Briefing
With Food grate tinplate, food grade internal lacquer, this Christmas tree tin box is not only a catching focus for tourist consumers.

Item No: RD110110185
Size: 110x110x185mm|4.33"x4.33"x7.28"
Tinplate: 0.23MM tinplate
Printing: CMYK custom printing
Embossing: Available
Spot glossy: Available Briefing
The outstanding of the common tea tin box is the cardholder on the tin body. Customer can insert a card with their desired picture and words to express their fe

Your browsing history
Round seaweed tin box buyer from UK visited Tinpak
Categories: Tinpak News
Stars: 3Stars
Visit:

-
Release time: 2016-05-18 19:06:00
Today my UK client Mr. Andrew and his partner Mr. Nitesh visited our factory. They mainly operate all kinds of seaweed foods and snacks. Their company is new but with great potential because their products are very popular and their company has established widespread marketing channel and the good commercial credit.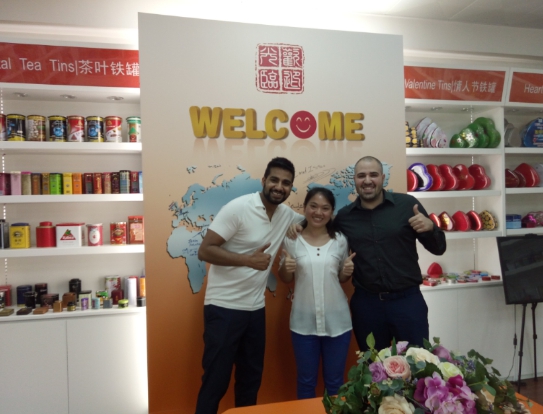 With comprehensive evaluation after comparing several suppliers, he already placed a trail order of 10000pcs round seaweed tin boxes to Tinpak in April this year. The cargo was already shipped to them and won their good evaluation. Besides the 10K round tin trial order, actually they have greater procurement needs on tin boxes for their seaweed foods packaging.
They told me that the main purpose of his visiting to China this time was to further understand Tinpak's production capacity and development planning and see if Tinpak's development can meet their great growing procurement demand caused by their rapid marketing expansion. After investigated our factory, brand new automatic tin manufacturing line, in-house Lab, office building, sample room and a deep communication with our boss, they are very happy that they find the right long-term supplier.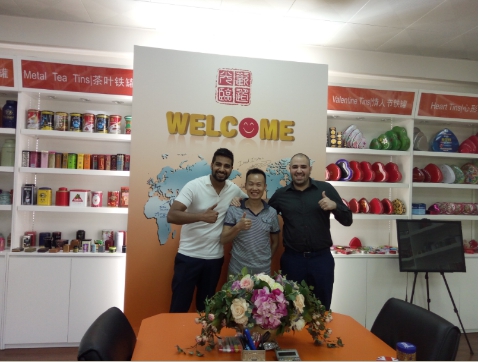 "Quality but competitive price is our culture" Not only the quality of tin boxes, but also service. We are confident to establish long-term relationship and have substantial progress with not only this UK client but also much more customers from all over the world.